Dexter Laundry Launches New and Expanded Website at Dexter.com
August 20, 2013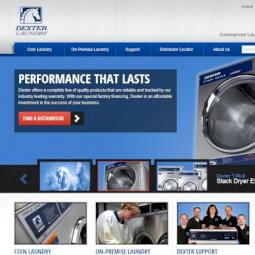 Fairfield, IA – Dexter Laundry recently launched a new and expanded website at www.dexter.com.  After several months of work, Dexter debuted their new website at Clean Show 2013 in New Orleans.
The website features an updated look and has been expanded to offer visitors comprehensive product information about Dexter's commercial and on-premise product lines. Distributors, new investors, repair technicians and end users will find extensive product information, specifications, artwork and more on every Dexter Laundry product. Potential owners will also find detailed articles on how to invest in coin laundry and on-premise laundry solutions.
New features added to the site include a parts look up and comprehensive troubleshooting tool to allow customers to diagnose and perform their own basic maintenance on machines themselves. This troubleshooting tool is mobile optimized and can be accessed via your phone, iPad or other mobile device. This tool contains detailed step-by-step "how-to" directions from Dexter's skilled team of factory-trained technicians.
"Our goal for the revamped website is to make information on Dexter Laundry products easier to access than ever before," said Craig Kirchner, Vice President of Sales, Marketing and Customer Service for Dexter Laundry. "We want to help our current and potential Dexter customers find the information they need as easily as possible. We will continue to expand our site with more updates and information to come."
Dexter Financial Services has also recently re-launched their website at www.dexterfinancial.com. Their new and improved website offers the ability to apply online for financing for Dexter Laundry equipment as well as a new payment calculator that will allow you to estimate the payments on your loan or lease.
Media Information
If you would like to learn more about Dexter Laundry, please contact:
Jaimie Johnson Marketing Manager
641.209.8115